Most Popular Products
With our rich expertise and experience, we fabricate an innovative line of engineering goods and machines including Bead Mill, Homogenisers, Mixing Machines, etc....
About Us

We, Wahal Process Technologies Private Limited, are an organization of dynamic engineers and expert technocrats, engaged in the production of the advanced machinery and engineering goods for different industries. Established in 1984, we are a noteworthy Manufacturer, Wholesaler/Distributor, Supplier and Exporter of superior quality Bead Mill Machine, Dyna Mill, Multi Process Mill, Zr-Splash Mill, Multi Rings Sheer Mill, Size Reduction Machines, In-Line Homogenisers, etc. Being administered by an experienced team of professionals, we always give the utmost importance to clients' requirements and satisfaction. Hence, we utilize sophisticated machinery in our production process and aim to deliver the finest quality products in the markets.

Embodied with the most advanced and impeccable features, our engineering products are efficient in performance and provide trouble free services to the customers. We design and manufacture each of our products after assessing the different aspects of the industry. We are highly resolute on delivering nothing but only the best. And this approach led us to provide fault free products to a number of customers and earn profitable business deals. Today, we are exporting our products to several countries like Australia, Saudi Arabia, Dubai, UK, Russia, New Zealand, Bangladesh, Nepal and Oman. Prestigious organizations such as Sakata Inx (India) Ltd, ISRO, Fun Foods and Dabur are our regular customers.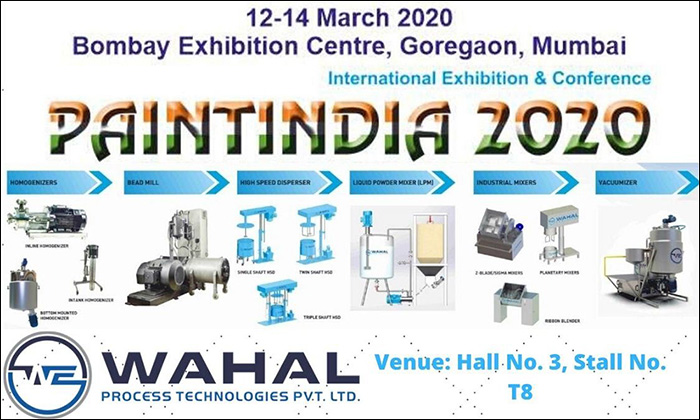 Application of Our Products
Our products find wide application in the following major industries:

Chemical
Cosmetics & Toiletries
Food Processing
Paints & Printing Inks
Audio & Video Tape Coating
Food Processing
Paper & Plastic
Pharmaceuticals
Agro-chemicals, and many more.
Assured Quality

Our unmatched quality is the main element that has endowed us immense reputation in the domestic as well as global markets. High on every aspect of precision, perfection, durability and performance, our products like Bead Mill are setting the standards of quality and performance at all the corners of the globe. We, at Wahal Process Technologies Private Limited, adhere to strict quality management system conforming to various national and international standards, thus leaving no space for quality degradation. Every finished product is thoroughly inspected for its technical specifications and performance, in order to ensure the flow of only best items to the market.
Client Satisfaction

We want to achieve the maximum standards in the arena of client satisfaction. The company wants to attain this objective through:

Its quality
Better after sales services
On-time delivery of the products
Highly economical prices
Promoting transparent and healthy trade practices.
Our Hallmarks

Our strengths that keep us ahead of our peers are:
State-of-the infrastructure armored with innovative and advanced technology
Right amalgamation of machines and personnel--the total operating system
To meet the customers' demands meticulously
To adhere global quality standards and industrial norms
Substantial investment to enhance knowledge in the domain of research, technical development and production
Wide base of loyal and satisfied customers across the globe
Our Products
Wahal Process Technologies Private Limited, a group of technologically adept engineers, offers an innovative array of engineering goods for various processes and chemical industries. Our line of products includes:
Bead Mill Machine

Sand Mills

Micro Grading Machines

Size Reduction Equipments

High Speed Mixers

Centrifugal Mixers

Multi Shear Mixers

Micronizers

Blending Machines

ZR-Splash Mills

Dyna Mill

Multi Process

Multirings Sheer Mill

In-Line Homogenisers

In Tank Homogeniser

Disintegrated Dissolvers

In-Line High Shear Mixers
Contact Details
WAHAL PROCESS TECHNOLOGIES PRIVATE LIMITED
Mr Shubham Wahal (Technical Manager)
Mobile : 08037404704
Additional Address : 250 Sq Yrd, Near Ganda Nala, Phirni Road, Sector 64, Kundli, Sonipat, Haryana, India